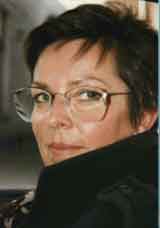 Whenever I first pick up my paint and paintbrush, my pictures are far from being complete in my head. The motives of my abstract pictures start developing only during the creative work process.
There has never been a title for any of my works - neither when I started working on them nor when they were completed. I wish every observer to come to his or her own understanding and interpretation of this particular piece of art - most of all he or she should enjoy looking at it.
Following this leitmotiv I have created a wide range of pieces of art during the past years. Being self-taught I started portraying children at the beginning of my career before working on abstract motives. I consciously do not strive for perfection.
My pictures shall communicate naturalness and of course pure joy. Whenever the observers are happy about my work and feel personally touched, I have reached my goal.
---
A t e l i e r
Elisabeth Rudolf